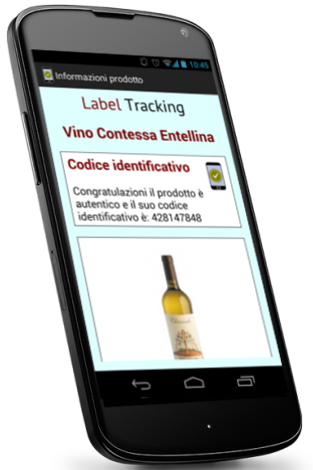 Tag Over provides intelligent anti-counterfeit labels, which provide more information to consumers. 
To certify the authenticity of a product, Tag Over labels use NFC technology, which is integrated on 90% of new models of mobile phones and tablets. With NFC, it is also possible to easily access all the product information.
Tag Over labels have also a QR Code, through which even devices not equipped with NFC can access all of the additional information available about the product.
How we certify Authenticity
The products' authenticity is guaranteed by the NFC Tag, which is embedded in every Tag Over's Label. NFC Tags have a Unique Identification Numbers, which is not falsifiable. The unique ID is paired to the product and inserted in a protected database, hosted in redundant servers. In this way, the Tag Over's Labels cannot be counterfeited.
In addition, if any problem occurs (i. e. a theft of your products), we can block one or more product series.
Manufacturers 
Manifacturers can register their products in order to certify the authenticity and obstruct counterfeiting. 
Each producer can autonomously fill in the sheet about company and about products to be certified. 
Tag Over sends the labels to be applied to the products. 
Consumers 
Consumers can access more information about products and manufacturer via NFC (by tapping the label with their phones) or by QR Code (by framing it with the device camera). Consumers can now access numerous additional information, because a Tag Over label can contain much more information than a normal label.
Tag Over Labels can also give more information about company, browse similar products of the same company, and share product sheet on social networks, or save it as a favorite. 
Owners of smartphones equipped with NFC, moreover, can also check the authenticity of the product to be sure it is not counterfeit, using the Label Tracking app.